Arlington Business Signs
VIEW GALLERY
Any business needs a good marketing system to be able to communicate its products or services to its consumer base. There's no better way to do this than by installing industry-grade and professionally made Arlington business signs.
If you need the best signs for your business, Sign Company Arlington is the one you should call. We are a trusted long-time player in the signage industry. We have served numerous business clients in the past, improving their promotional, branding, and communication capacities in the best and most impactful ways. From signage design and manufacturing to installation and repair, our experts can do the whole range of services involved in signage production efficiently, on time, and within budget.
Our signage specialists will be there for you throughout the process, offering stellar customer support and expert recommendations so you can be fully satisfied with the final result. Our main goal with every project we handle is to turn the ideas of our clients into real products that they can be proud of and that can bring a powerful improvement to their business. Let us help you get the exact signage that you need to make your business more complete and successful.
Call Sign Company Arlington today at (817) 769-7904 for your Free Consultation with an Arlington Business Sign expert!
Cohesive Commercial Signs
Business is naturally a competition. It is a necessary endeavor for a business to be able to set itself apart from the other players in their industry so customers will favor their products and services over others.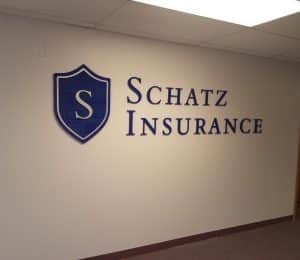 Aside from ensuring that your offerings are at the top of the line, standing out in an industry requires professional-looking and well-designed business signs.
Your business signage must be able to effectively showcase your logo, company name, and other relevant business information. It is also advisable to use multiple kinds of signage products built as a coherent set that carries your brand well. This ensures customer retention in your business, establishing your brand in your consumer base beyond mere first impressions. We also cater to businesses of all sizes, making sure that enterprises of a smaller scale have access to the best products the signage industry can offer.
With a full-service package available from Sign Company Arlington, you get the opportunity to have all the Arlington business signs that you need to improve your operations significantly. If you need a strong storefront sign to represent your business and showcase a lasting first impression, we have all the options you might want, from channel letters and canopy signs to monument signs and digital message centers. If your building is in a remote location, we can build and install towering pole signs for you. If you need decorative elements in the interior of your office, we can design and craft the best vinyl clings or illuminated channel letters for you.
We are more than happy to thoroughly discuss with you your needs and offer our best recommendations to achieve your goals using top-quality Arlington business signs from Sign Company Arlington.
Complete Business Signage
Outdoor usage is not a complete way of optimizing your Arlington business signs. The interior of your business building must also be utilized for promotional, informational, and communication purposes. With directional signs, wayfinding signs, informational signs, caution signs, and all other types of indoor signage installed in your interior, your customers and visitors will feel welcome, acknowledged, and comfortable.
There are many types of indoor business signs available, each with its own function. You can have ADA signs, point-of-purchase signs, warning signs, wayfinding signs, and even specially customized signs, all with a coherent brand and design. Our team of signage experts has all the experience, training, and skill needed to produce all these signs in a way that highly impacts your business for the better.
Here are some of the Arlington business signs that you can order from Sign Company Arlington:
Any of these signs can be designed even with a highly customized idea that you have. Every budgetary requirement or schedule will be strictly followed. All the branding guidelines and creative preferences that you want to apply to your signs will be strategically incorporated. You can trust that with Sign Company Arlington, your Arlington business signs will be at their peak quality.
Free Business Sign Consultation
Business signs can improve your business. However, generic-looking signage can only bring you so far. If you want to truly stand out among your competitors, you would want to get a trusted professional sign company to help you create professional Arlington business signs. And you won't go wrong with Sign Company Arlington!
We offer not just industry-quality products and high-level technical services. You can also expect that we will take care of you, as our clients, throughout the process of designing, manufacturing, and installing your signs. Because we want to gain good relations with our clients, we prioritize customer support, making sure the people we work with are fully comfortable and aware of the best options they can choose from when it comes to business signs.
Call Sign Company Arlington today at (817) 769-7904 for your Free Consultation with an Arlington Business Sign expert!