Arlington Custom Banners
VIEW GALLERY
If you need to promote your Arlington business, let Sign Company Arlington create the banners that draw the attention you need. We have a wide selection of options in terms of sizes and materials. We're here to help you create the perfect banner for the perfect event or task.
Whatever your needs, we can meet them. We can create indoor sales banners, tradeshow banners, banners for outdoor events, or any other style of banner you require. Sign Company Arlington is a one-stop shop for the entire banner creation process. We take care of every step from initial concept to full production. Work with us and you'll be able to have a professionally designed and produced banner without the stress.
Call Sign Company Arlington today at (817) 769-7904 for a Free Consultation with a Banner Expert!
Promotional Banners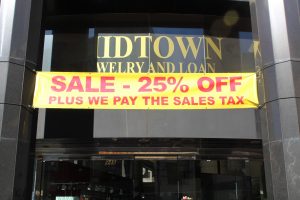 Banners aren't just to announce major events. They can serve a number of functions. Many businesses use them for small-scale promotions. Banners can be a great way to distinguish your shop from the other shops at a trade show or to mark an easy path through an event space for clients and customers to walk unimpeded. Choosing the right style of banner is important, as well! Retractable banners are great if you have to set up and tear down a booth. Hanging banners are great if you have the ability to leave your area set up over a long period of time.
Sign Company Arlington understands that you only get one chance to make a good first impression. The right banner can make the right impression and lead to amazing outcomes. We consider ourselves local, which means our clients are also our neighbors. And here at Sign Company Arlington, we insist on being neighborly.
Banner Support Structure
There are a number of details that people often forget when they consider their banner. A banner might need things such as grommets – metal rings protecting the banner – or an external support like a stand. Some banners require both. When you meet with us for your free consultation we'll go over all the details. We'll make sure you understand every option before you decide on what you want. We have a wide variety of options, and we want to ensure you display the perfect banner for your needs. Stop in at our local shop to see some samples. We'll be happy to show you the various materials and support structures and discuss what kind of designs you might want.
Full-Service Sign Company
Sign Company Arlington is a one-stop Arlington banner shop. We can handle every step of design and manufacturing. There's no need to outsource each piece of banner creation when you work with us! We'll also ensure you know how to set up your banner quickly and easily. We understand how frustrating it can be to get caught up by assembly! If you have an especially large and cumbersome banner, we'll gladly assist you with the installation.
Free Expert Banner Consultation
Sign Company Arlington prides itself on creating attractive banners that fulfill your needs. We treat our clients like we treat our neighbors because at the end of the day we're a local Arlington company and we have local pride.
Call Sign Company Arlington today at (817) 769-7904 for a Free Consultation with a Banner Expert!