Arlington LED Signs
You can definitely attract a lot of customers using retro neon signs. However, considering their cost and effects on the environment, your business could better benefit from a cheaper, more eco-friendly alternative—our Arlington LED signs!
Sign Company Arlington has been in the signage manufacturing business for a long time, and LED signs have been among our best-selling products. Along with other types of business signage, we design, fabricate, and install customized LED signs. We have LED tubes that can be bent into any shape, letter, number, or symbol that you want. We also offer modern LED displays and other traditional signs that are illuminated with LED lighting.
We customize any type of LED sign that you'll choose based on your signage purpose, branding guidelines, location of installation, and budget. Rest assured, we will make it as durable as possible and install it in the most secure way manageable.
Still on the fence about whether LED signs are a nice fit for your business? Talk to our signage experts today and discuss how our LED signs can efficiently let you outshine your competitors and expand your customer base!
Call Sign Company Arlington now at (817) 769-7904 for your Free Consultation with an Arlington LED Sign expert!
Indoor LED Signs
As much as LED signs can improve your building's exterior, they can enliven any indoor space as well. You can utilize them as wayfinding tools or as indoor advertisements and decorative elements that will encourage your customers to buy more.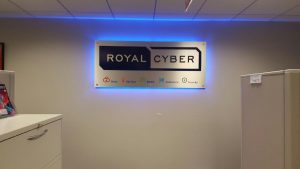 LED tubes, for example, are frequently ordered as "OPEN" signs by a lot of businesses. These LED tubes can also be customized to have other shapes, allowing you to spell out your business name in your lobby or to label your counters, bathrooms, and exit points. You can also use them as aesthetic elements in your interior, shaping them into different images, quotes, etc.
We highly recommend LED signs as an alternative to those looking for the traditional charm of neon signs. LED signs are far cheaper to purchase and maintain. They also consume lesser energy compared to other illuminated signs, making them better for the environment.
Aside from LED tubes, indoor LED signs come in the form of LED digital displays and LED-illuminated signage, such as cabinet signs and channel letters.

Programmable LED Message Centers
Included in the LED signs that we offer are programmable LED message centers. This modern signage allows you to change your displayed information whenever you want to.
With your computer, you can easily program your display to include new promotions or to change the displayed prices.
Due to the convenience these signs offer, they are one of the most time- and cost-efficient you can choose in advertising. Now, you don't have to buy whole new signage if you have new products or events to promote.
Additionally, we can install your LED message centers either as standalone signage or as a part of your other existing business signs, such as pole signs and monument signs. You can also choose to customize your display and have it either full- or monocolored.

Full-Service Sign Company
If you're looking for a trusted full-service sign company, Sign Company Arlington can give you the best comprehensive service possible. Our team has the training and experience to meticulously design, manufacture, and install all kinds of Arlington LED signs and other types of customized business signage.
Should you decide to work with us, we guarantee that our customization process will allow you to achieve highly visible and attractive signage for your desired increase in traffic. We will complete every detail based on your preferences, approved design, branding elements, and specified budget.
Additionally, we will use cost-efficient materials that will last for a long time without necessarily costing too much. We are also equipped with all the proper tools to finish our service with a skillful installation that will secure your signage without a hitch. So whether you need LED signs or other business signage, rest assured that you will reap its marketing benefits for as long as you want!
Free Consultation with a LED Sign Expert
If you want to truly improve your business's bottom line, maximize your exterior with eye-catching outdoor signs and make your interior more captivating with compelling signs as well. Our Arlington, TX LED signs are definitely a cost-efficient investment to achieve this!
Discuss your illuminated signage options with our team today and look for ways to effectively promote your business around the clock.
Call Sign Company Arlington today at (817) 769-7904 for your Free Consultation with an Arlington LED Sign expert!