Arlington Custom Signs
VIEW GALLERY
Custom signage is something that many companies shy away from because they aren't sure what it really means.
The concept of custom signs is simple: we can create any sign that you can imagine, whether it is a standard sign type, such as a storefront or lobby sign, or we can create an entirely new style of sign to meet your needs.
By designing your own custom sign, you have the ability to get exactly what you want. A custom sign will give you complete freedom to create exactly the right sign for your business.
Call Arlington Sign today at (817) 769-7904 for your Free Consultation with a Custom Sign Specialist!
Unique, Professional Signage
If you're aiming to stand out among your competitors, using well-designed, professionally made custom signs are one of the best ways to do it. You don't just want to have an image that looks generic, simple, and just like any other small-minded business. Sign Company Arlington is here to help you achieve the star power that you want your business to gain through effective visibility and promotional tools.
Aside from promotional use, custom signs have other functions too. They can be used for facilitating a smooth working environment, helping customers navigate their way around your business area, and even just decorating any interior or exterior space. It is important to maintain a coherent visual identity for all these signs even though they are placed in different locations and carry out distinct functions. With our custom sign service package, you can achieve this easily.
Designed for Your Brand & Business
In every business industry that exists in the world, the products and services are almost the same, if not essentially identical. Some are cutting-edge, while most businesses compete in other aspects–primarily in terms of promotions. Custom signage is the best tool you can have so your customers can distinguish your products from the rest.
With Sign Company Arlington, you can have signs that are designed specifically to let your brand be properly recognized as a single, cohesive unit. From the decorations along your hallways and murals on your walls to your storefront signs and your digital centers, we can make them have a united look that strongly communicates your brand altogether. We can help you analyze and target your consumer base so they can know that your products and services are high-quality and intended for them.
No matter what kind of business you run, we are here to accommodate your needs. We have worked with numerous clients from various industries. We always aim to assess your business and industry in a thorough and detailed manner so we can know how to help you best using top-quality Arlington custom signs.
Here are the following customization types and signage options you can choose from:
Tell us all about your creative preferences, budget, schedule, and other important details. We are ready to accommodate them all and build the best Arlington, TX custom signs for you. Whether you need a single storefront sign or a full array of branded signage, you can trust us to provide you with the best that the signage industry has to offer.
Our Custom Sign Process
Custom signs are one of the best ways to help communicate what you have to offer to your consumer base. And Sign Company Arlington is here to make sure you get the best possible versions of the Arlington custom signs that you aim to have.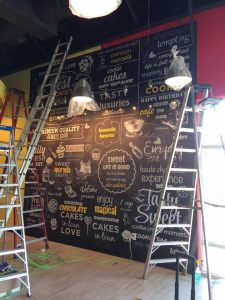 The first thing we do to help create the best products is to conduct a thorough discussion with our clients about their goals. We gather all the information we can get about your brand, business, location, target audience, and creative ideas so we'll know how to best present them. If we find an opportunity for expert recommendations, we freely give them to our clients to help improve their decisions.
We always provide mockups to our clients so they can have a glimpse of what the final product will look like. This also gives them the opportunity to apply changes to the plans should they find anything they don't prefer. Furthermore, with the various options that one can choose from regarding signage and their designs, we make sure that we offer all the information they need to know in order to pick the right colors, sizes, materials, and other specifications.
Our signage manufacturing team will get started with the production process once you are fully satisfied with our plans. Every material, equipment, and product involved in the process will be meticulously checked for quality, ensuring the peak value of the signs by the end of the process. They will be handled with care until the installation process, which will be facilitated and be made to run smoothly by our highly experienced installation team.
Customizing signs is our passion at Sign Company Arlington. It gives us the opportunity to offer a true and lasting impact on a business through industry-grade signs that are made specifically for each client that we work with. You can expect that if you order Arlington custom signs from us, every product that we make for you will be done with exceptional quality and professionalism.
Free Custom Sign Consultation
Custom signs can definitely help boost your business. But you need a trusted and highly experienced team of signage experts to help you craft customized signage that can actually pull off the goals you have for them. Go to Sign Company Arlington for all your signage needs, and you won't regret the investment you make with us.
What's better is that even after we install your monument signs, digital message centers, vinyl clings, or any customized sign you have, you can still depend on us for any sign-related service you need, especially repairs and maintenance. You can always book a consultation with our experts, call us for any repairs, or just ask the questions you have about signs. We'll be there for you.
Call Sign Company Arlington today at (817) 769-7904 for your Free Consultation with an Arlington Custom Sign expert!